The New Brunswick Country Music Hall of Fame is pleased to announce that Brenda Best will be inducted as a new member to the Hall of Fame.  The Museum is located at The Victoria Centre, 65 Brunwick St., Fredericton NB. Canada.   The induction ceremony and gala event will be held...

Brenda Best has written a song under consideration for nomination with The 57th Grammy Awards. The song "Checking Up On Your Behavior" in  "Best Gospel Performance/Song" in Contemporary Christian Music category.   The 57th Annual GRAMMY Awards telecast on CBS network will be held on Sunday, Feb. 8, 2015.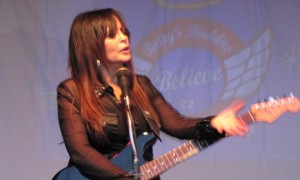 - Fundraiser show in Three Oaks MICHIGAN (7-25-2014). The concert ticket sales raised money for Cancer by supporting an organization called Betty's Buddies (www.bettysbuddies.org). Brenda Best's 4 hour non-stop show was indeed a marathon showing love & support for a good cause. The Featherbone Restaurant Bar & Grill (a business...
Read more posts
---